Childcare for Southwest Newfoundland: A Community Conversation
Date: February 10, 2022
Time: 10am-12pm NDT, 9:30-11:30 in Labrador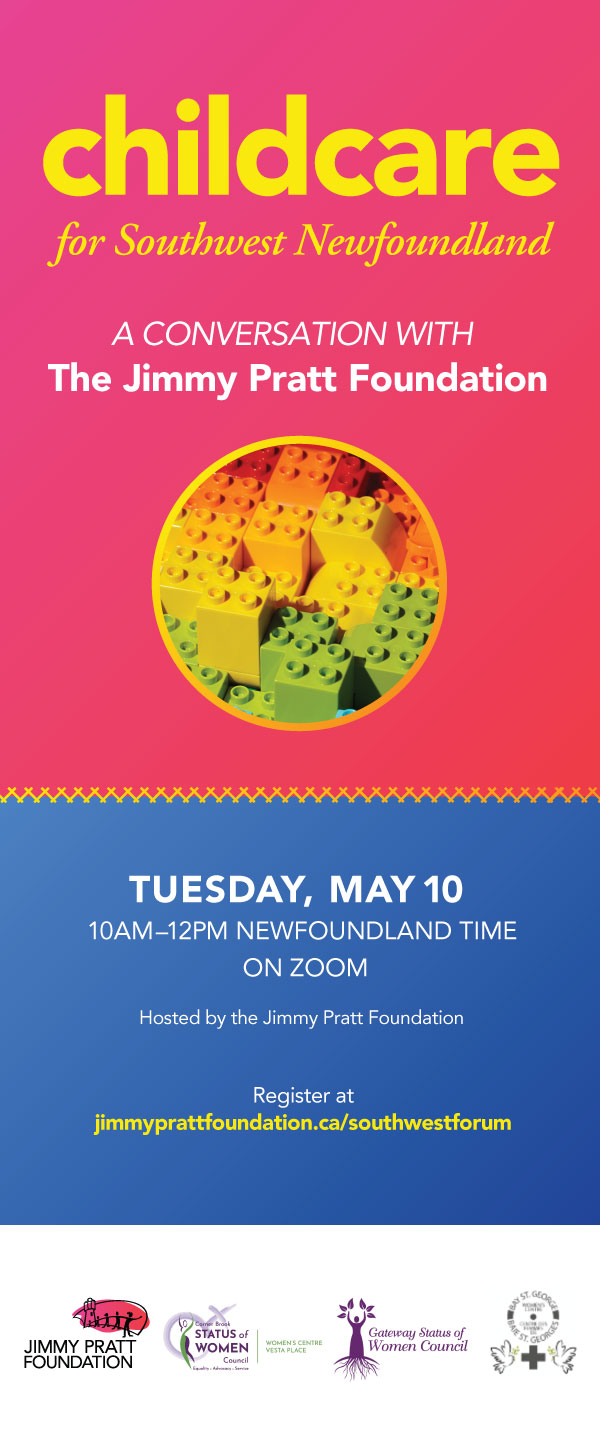 About the Forum
Join the Jimmy Pratt Foundation and the Corner Brook, Gateway and Bay St. George Status of Women's Councils for a conversation on the future of childcare in Southwest Newfoundland.
For the first time ever, thanks to the recent federal-provincial childcare deal, we have the chance to reach every child and family in the province. This event will dive into the details of Newfoundland and Labrador's childcare plan with Neria Aylward, Executive Director of the Jimmy Pratt Foundation. Then, we'll move into a discussion of childcare needs across Southwest Newfoundland – from larger towns to small communities. Throughout the event, we will put a focus on inclusive childcare that welcomes every child and family regardless of their needs.
This is part of a series of events bringing together parents, educators, and other advocates for children and families to shape the future of childcare in Newfoundland and Labrador.
Where and When?
Online Event (Zoom)
Tuesday, May 10, 10am-12pm NST, 9:30am-11:30am in Labrador
Audience
All are welcome. However, this event is specifically targeted at organizations with an interest and/or engagement in childcare issues (such as organizations that work on issues including Early Childhood Education, gender equality, education, workforce and economic development, child and family services, and the Early Childhood Education workforce).
Register Now